Commissioned by 

British Council & Korean Foundation
at

2019-Present: Every Day

, Meta Art Station, The 14th Gwangju Biennale Sponsorship Exhibition, 7 APR - 9 JUL, 2023
at 

Daily Rituals; Four Earths

, Coventry University, Coventry, UK, 21 NOV, 2022
at 

COP27 Conference

, Sharm El Sheikh, Egypt, 14 - 15 NOV, 2022
Hear the Voice of Wind
is a visionary exploration of the ancient bond between humanity and nature through the lens of shamanistic tradition in Korea. With an innovative blend of cutting-edge technology and ancient ritual, the project seeks to immerse audiences in a world of ecological harmony and spiritual reverence.
At the heart of the project lies the Jeju Chilmeoridang Yeongdeunggut ritual (designated as UNESCO Intangible Cultural Heritage), a sacred practice that celebrates the wind goddess and offers respect to the natural world. By scanning modern lifestyle waste with 3D technology and placing it alongside the ritual, the project reveals the deep psychological and chemical purifying power of shamanistic practice in a world marked by rampant consumerism.
​​​​​​​​​​​​​​
The virtual space created by the project incorporates the
Bangsa Pagoda
, a relic of folk belief that wards off evil spirits, and stone towers that dot the Jeju island, offering a multifaceted perspective on the region's natural and spiritual landscape. The point cloud system and VFX graphs weave together audio and visual elements, bringing the ritual and the virtual space to life in a mesmerizing flow that expresses the scattered, gathered, and purified relationship between humanity and nature.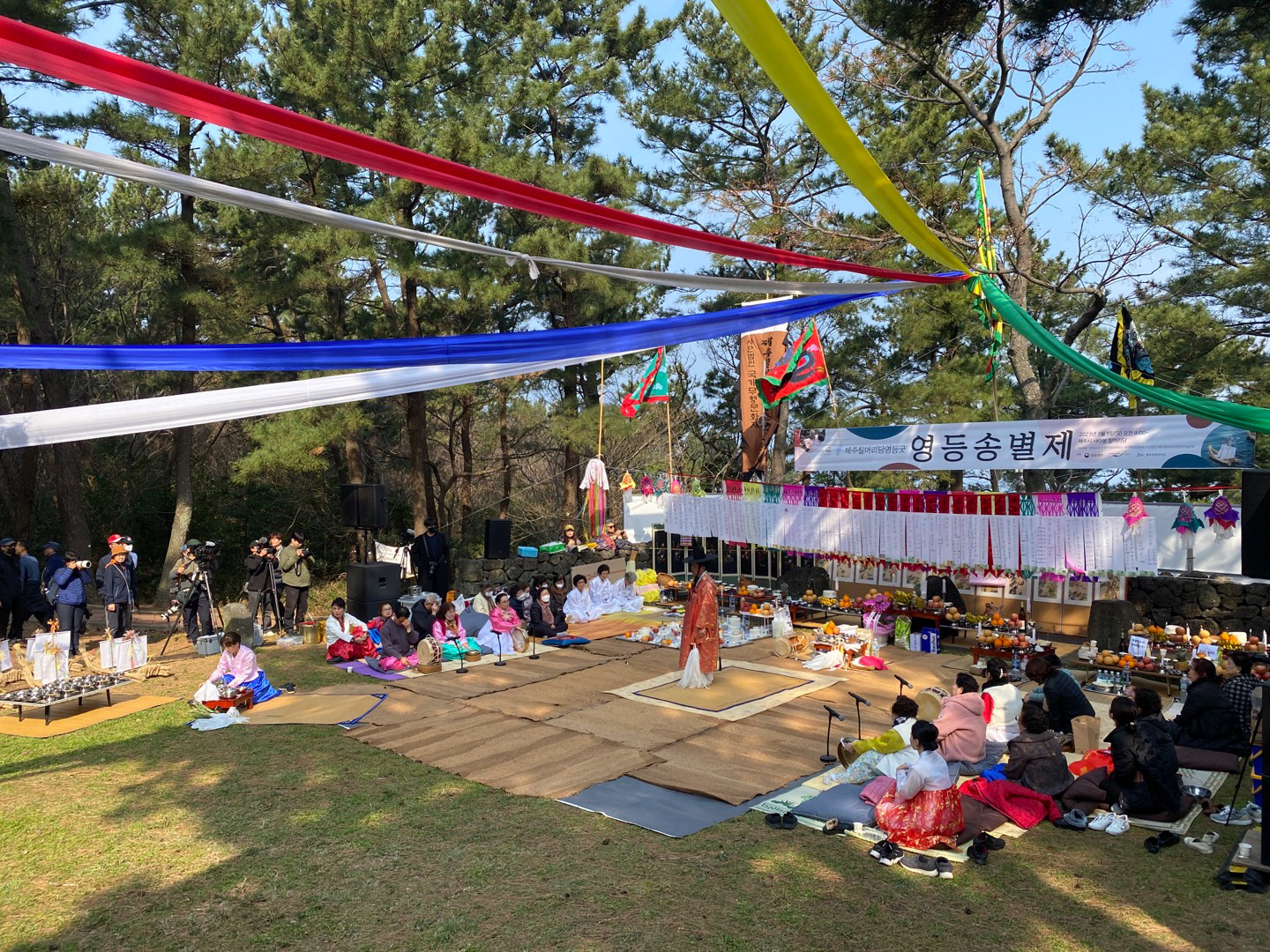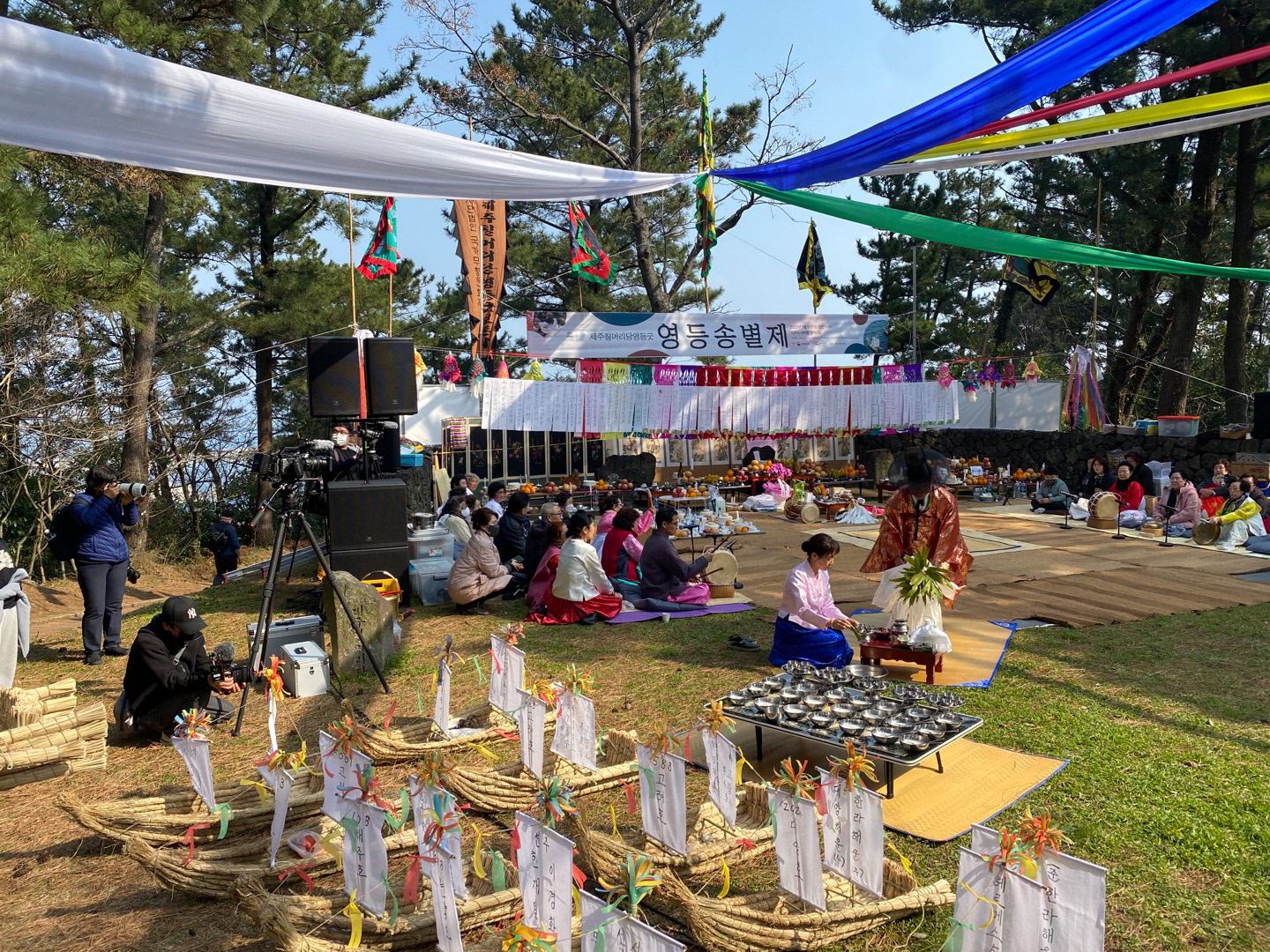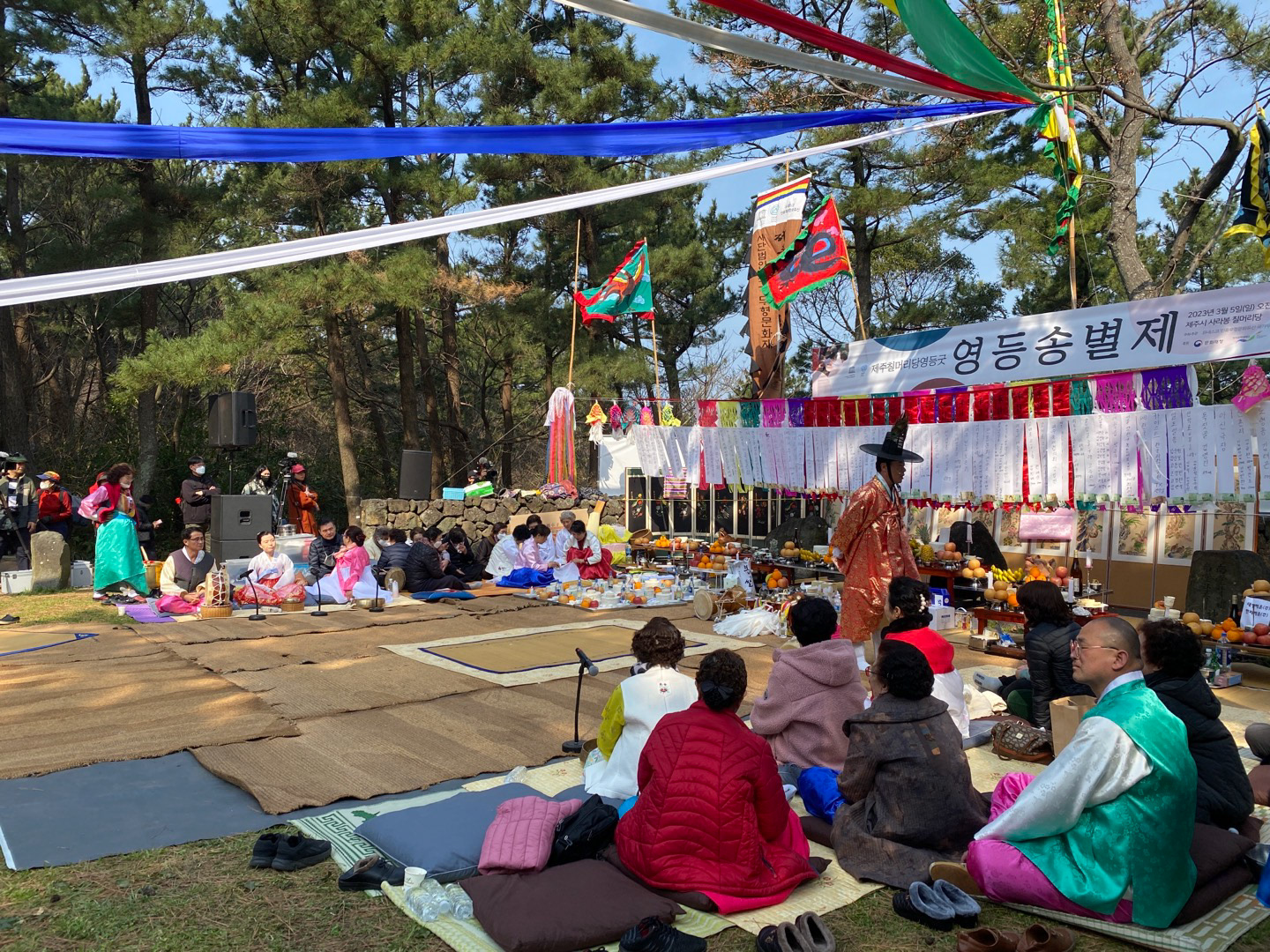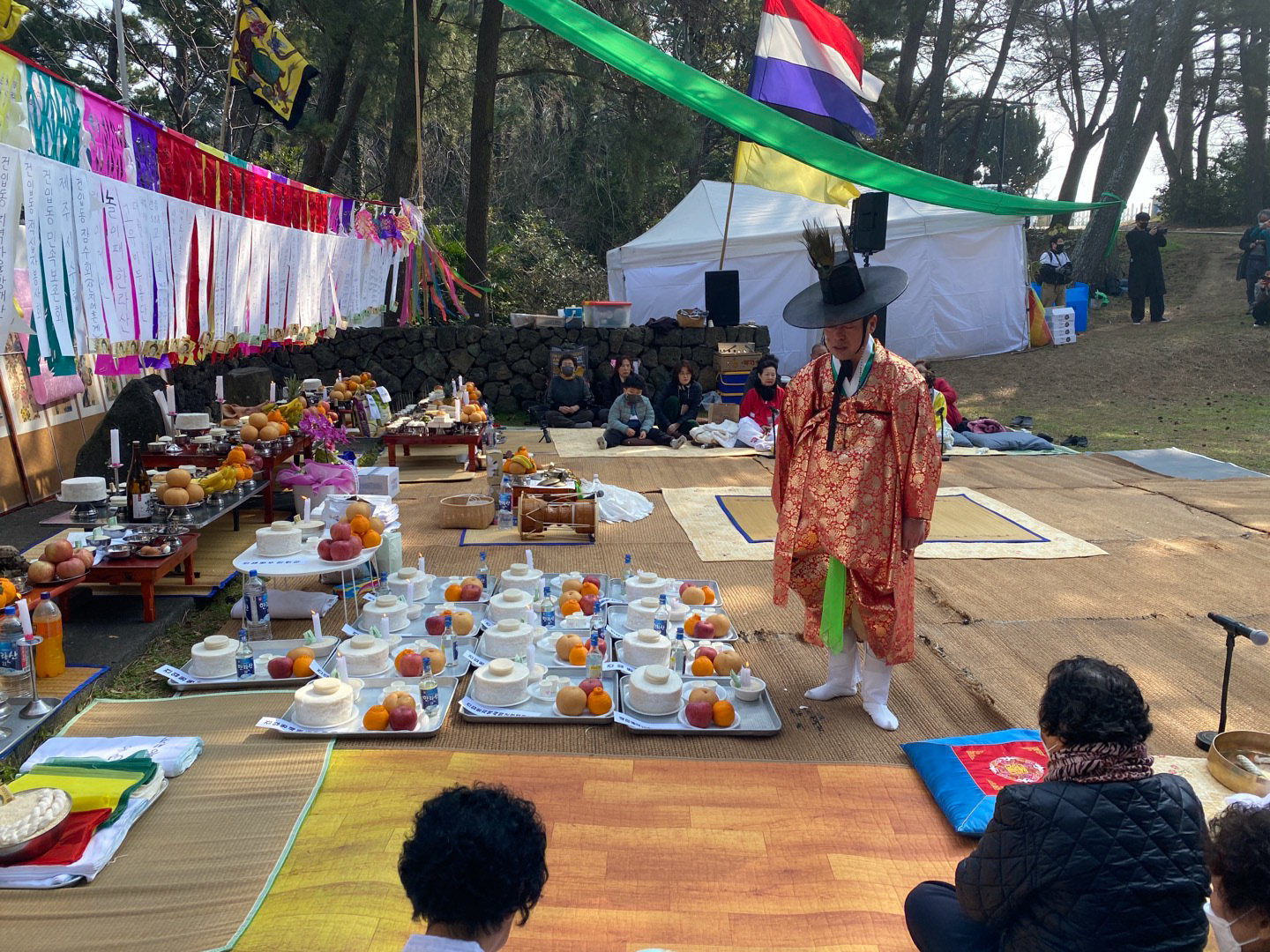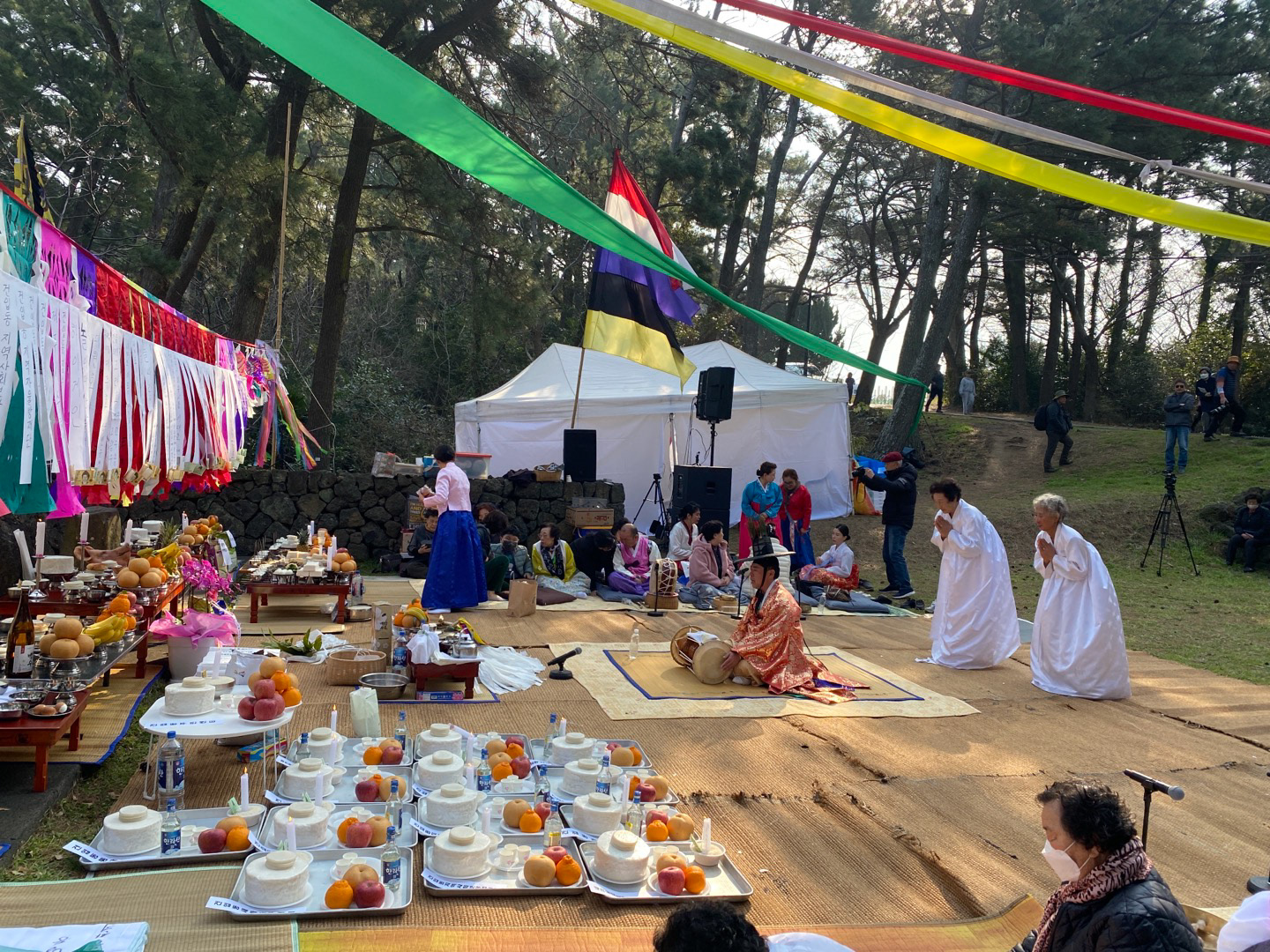 In its 2023 version, the project takes an even more daring turn, using brainwave equipment to capture the performer's thoughts and sensations during the
Yeongdeunggut
. Through neuro-media art, the audience is invited into the shaman's mind, experiencing the deep connection with nature that lies at the heart of the ritual.
Hear the Voice of Wind
is a work of art that speaks to the timeless bond between humanity and nature, and the urgent need to rekindle that bond in the face of the environmental crisis that threatens our world.
[1]

https://heritage.unesco.or.kr/제주-칠머리당-영등굿/ 
[2]

Hyun, H. N. (2011). Soil environment, a key to open up Jeju society and culture. Korean Society of Environmental Agriculture: Conference Proceedings, 3-20.
[3]

Taehyung Song. (2009). mythology and cultural content. Journal of Human Sciences, 22(), 131-158./ Hyun Yong-jun (2005). Myth of Jeju Island. Seoul: Seomundang, 3p
[4]

http://encykorea.aks.ac.kr/Contents/Item/E0021704 [Source: Encyclopedia of Korean National Culture (Bangsa Tower)]
Arist                                     
Jinjoon Lee
Art Director                         
Sun Kim
3D Scanning / Modeling   
Yeeun Han
Sound Interaction 
             Sungbaek Kim
Unity 
                                  Seungmin Lee
Curator
                                Meeyung Chung
Project Manager 
               Bona Lee, Doyo Choi
UK-Korea Creative Commissions 2022