Commissio

ned by 
Gyeongnam Art Museum
at

On Life

, Gyeongnam Art Museum, Changwon, Korea, 8 APR - 26 JUN, 2022
Jinjoon Lee researches on producing work on "liminoid experience" using new technologies. He seeks to explore the relationship between nature and a new substance called artificiality through his work. In the face of various signs of environmental disaster, how can nature and artificial beings' interaction and coexistence be achieved? Lee encourages us to break down and redefine the structure of our consciousness by posing a significant question on our limited gaze and social phenomena.
Green Room Garden
is Lee's new work commissioned by Gyeongnam Art Museum for this exhibition. It is deeply meaningful that it is exhibited in a space that holistically integrates all his research fields. The virtuality-reality boundary is already gone, guiding our tempo-spatial experience to another level. The audience would be able to experience the boundary as if to step on a virtual place through the wall painting constituting an artificial garden filled up with the green light and a video of the manufactured nature made of AR and AI technologies. Upon leaving the garden, our visual experience being accustomed to the green light would leave us with visually residual images in red as if being soaked in water, and enable us to encounter a different scenery from when we first stepped into it.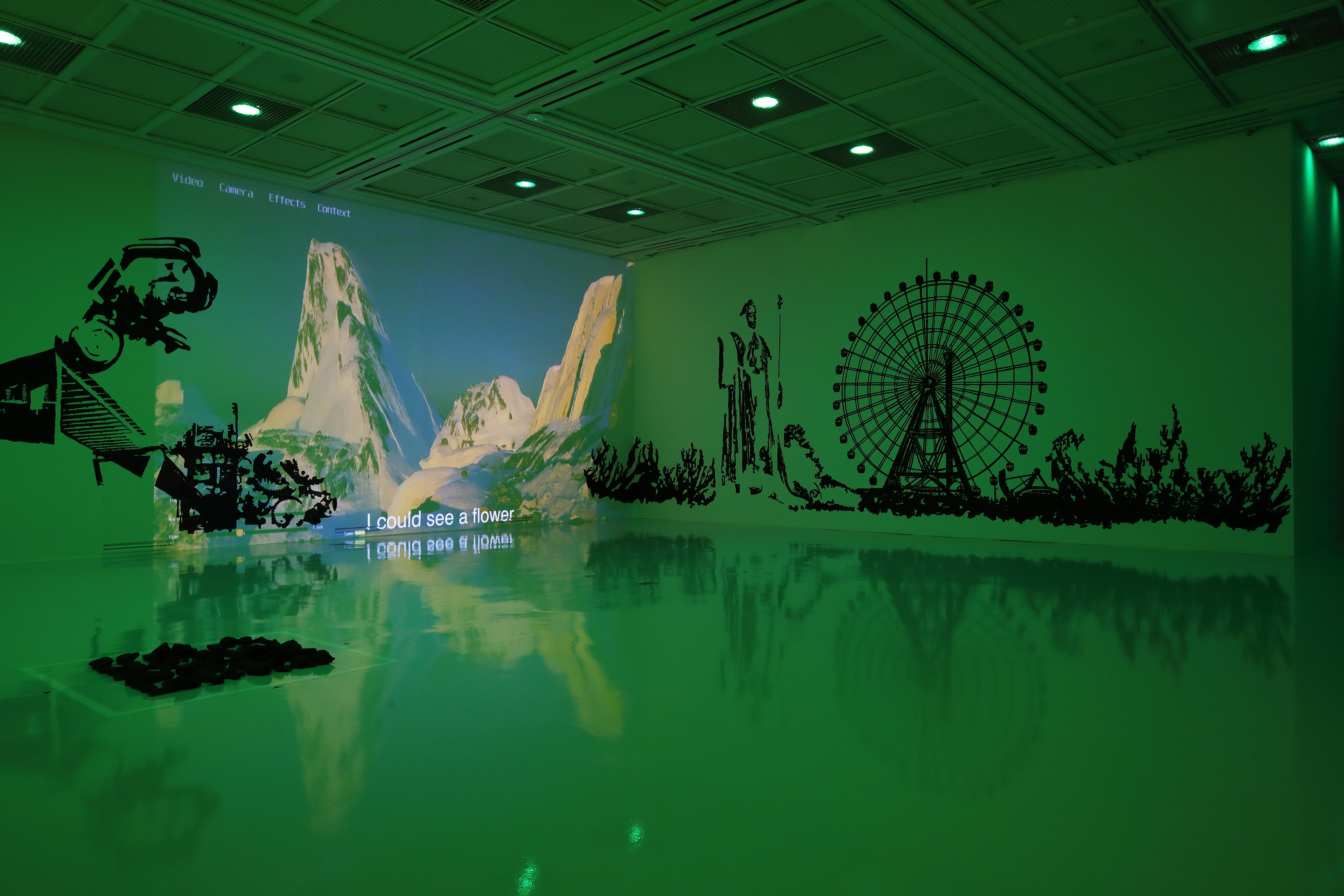 "When I would stand beneath those streetlights, I would stare at the trees lining the road. Each of those trees had been growing somewhere else until its roots had been slashed away, and it was moved to this new space, where it was forced to put down new roots and grow expressionless in the space between road and pavement. Whenever it rains or the wind blows, I feel as if those trees stand guard, acting as the true heroes of the city's story. Is it because they've collected too much dust from the city? Or perhaps because of the way they stand stiffly at exact intervals perfectly spaced from each other? In their mother forests, they would have never stood this way. Clearly, those trees were living things, but somehow they felt manufactured. Manufactured nature... It formed a portal of sorts. Those trees — with their perfect spaces and intervals, covered in their city dust; casting their strange shadows as they moved under the streetlights — they whispered to me about where I came from. In the middle of the night, London can be a quiet place, but the sounds of the busy city day still linger in the trees. I would walk amongst them, as they guided me through the city maze until the early hours of morning. It always felt as though if I went just a little farther, those trees would take me to a secret place, one only they knew. A place that would take me away for a moment from the stage on which I was living. I felt almost like I was walking around inside the painting in the scroll you used to show me in your study, Grandfather. As you would unroll the scroll before me, I could see a flower, a stone, a stream, a snow hill, a tree; and they whispered to me of things which can't be found in the city. Those whispers must have come from some wide space outside of the study, brought from nowhere in somewhere by a gust of wind. Somewhere along the way, our concept of speed has become confused, in their understanding of space and time. As the concept of 'lived time' has disappeared from our age of instant information, we have become virtually unable to feel space through our senses. If we hope to not lose that in-between space, where, ever-shrinking, it sits between start and finish, we will have to pay closer attention. It is said that the space between start and finish has been lost, but I yearn for that place which exists somewhere but isn't anywhere, that 'nowhere in somewhere'. A place like my grandfather's garden. Is that why I miss my childhood in the shadow of Masan's red mountains? Is it because I've traveled so far away — because we as people have traveled so far from the nature we were born to? Here on my plane from Somewhere to Nowhere, I feel I'm starting my own journey — one that will take me through the smells and sounds of my memory to meet my grandfather. One that will take me to nowhere in somewhere."
- From the Artist note for
Green Room Garden
by Jinjoon Lee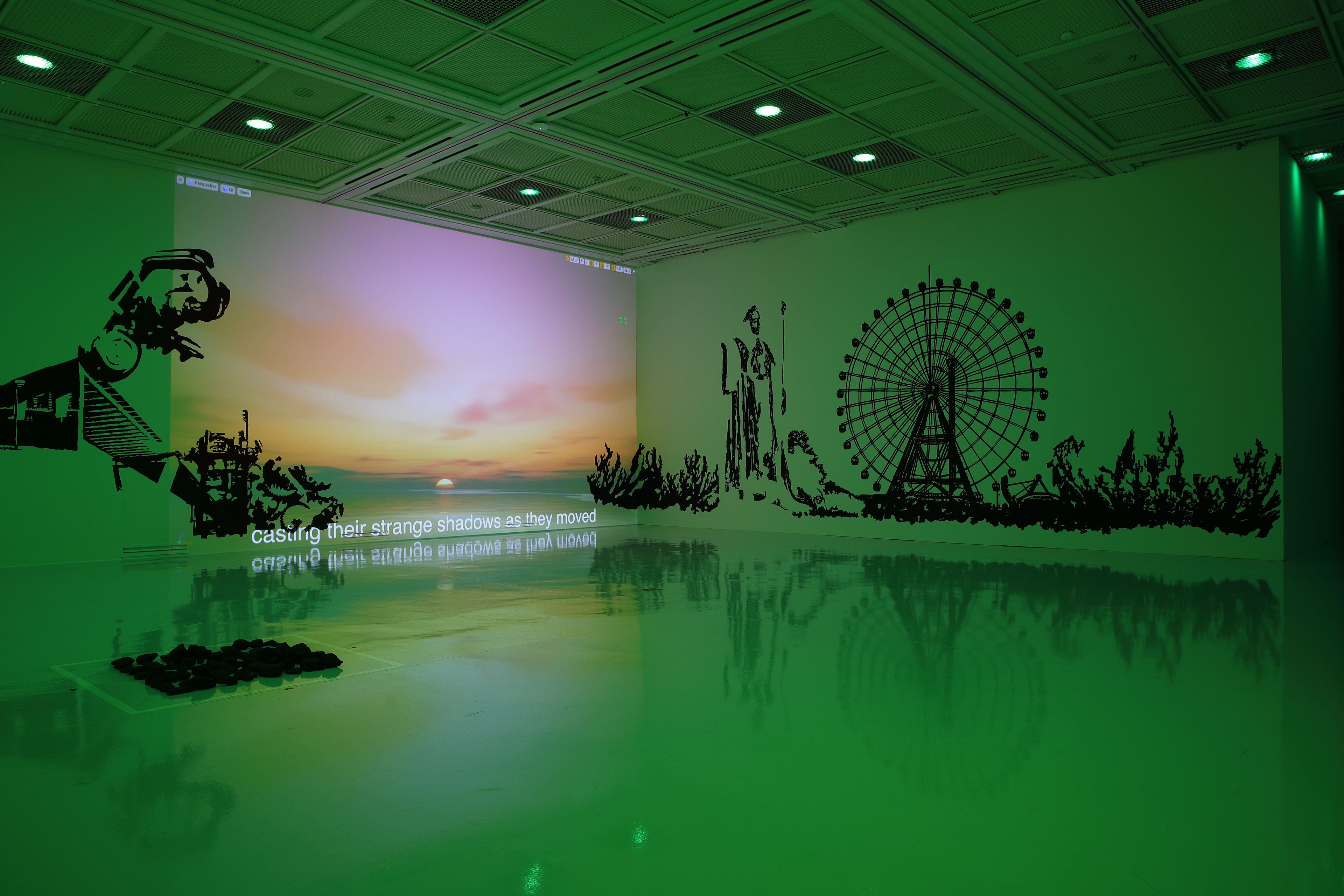 2022. Single channel video, 11'11"
2022. Single channel video with sound installation, 08'58"
2022. Single channel video on an existing door, 11'06"
Art Director, Installation
  Sun Kim
AI Developer, Sound, Narration
  Dr. Andrew Gambardella
AR Developer
  Kim Sungbaek
Assistant
  Changwon National University, Art Dept.
Commissioned by
  Gyeongnam Art Museum